We're t-minus less than 12 weeks away from baby's arrival (!!!), and with the crib being the only thing in our possession....let's just say it's time to get our asses moving.
I have yet to find the perfect rocker. You know, the one that isn't too cheap and traditional looking, yet certainly not one that will set us back close to $1,000 (which it seems all the stylish ones do). But low & behold I've managed to figure out what kind of accent table is going to sit along side this yet-to-be-found chair!
I had my eyes on this
CG Sparks
iron and glass accordian table...
...but alas, it's no where to be found. As in, this item is currently out of stock everywhere I check online (even Walmart!). Son of a farmer!
So it's back to my original pick, the accordion side table at
Urban Outfitters
...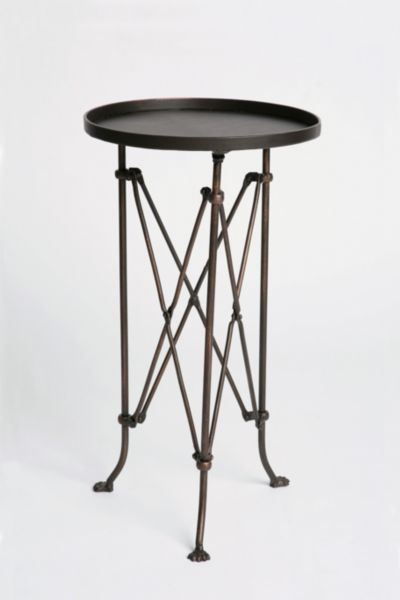 ...a perfectly acceptable option that will set me back $74 (plus some tax & shipping). My only issue is that I can't seem to grasp what color this table is...is it bronze? Gold? Or a mix of bronze & gold? Each picture I find tells a different story. I'm no stranger to a can of spray paint, so I could certainly doctor this thing up if it isn't to my liking. Especially since many a gold accents are going to be in baby's room...

Next up? Finding a rug! Which proved to be a bit of a letdown when I went to buy one I just found at HomeGoods...and it was already gone less than 24 hours later! So let that be a lesson to all. Buy it when you see it because it probably won't be there when you go back (hightened emotions may ensue, especially when pregnant...that may or may not have happened today). Lately, this seems to be my motto when thrifting too. Which also explains why our garage looks like the inside of a Goodwill. My poor husband. If he sees one more ugly lamp (with potential!) sitting inside our garage, he's going to crack.

I'll keep you posted on my decisions and purchases as I make them! Afterall, I don't have much of a choice these days. I guess I work well under pressure?!